October 13, 2011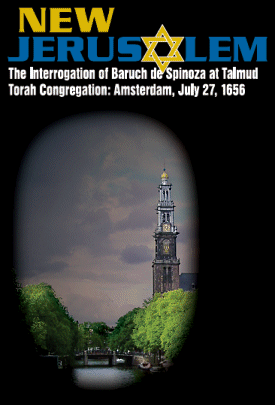 When you read the name Baruch de Spinoza, it might bring back long-ago college nightmares of the one question on your philosophy final that you just couldn't answer.
But when you're sitting in the plush, red seats of St. Stephen's Theater to see the Lantern Theater Company production of New Jerusalem, The Interrogation of Baruch de Spinoza at Talmud Torah Congregation: Amsterdam, July 27, 1656, Baruch starts to look more like a smart, old friend.
Seated in a circle around the main action of the play, and constantly confronted by its characters, the audience cannot help but feel immediately involved in the events unfolding before them. As David Ives' popular off-Broadway play attests, Baruch is more than just a historical monument or a philosophical treatise.
In his real-life struggle to defend free thought in a trial that threatened excommunication from his Jewish community and exile from Amsterdam's sanctuary, he reflects the inherent rebellion and doubt of youth in any era.
Don't let the ponderously long name of New Jerusalem fool you. With its incredible wardrobe transformations and its intimate setting, the play offers a view into the past that is poignant and remote, logical and accessible — in fact, as contradictory as the universe Baruch confronts, and as complex as the arguments he uses to make sense of it.
In conjunction with the play's run, now through November 12 (extended due to popular demand!), Lantern Theater Company hosts the Fall Philosophy Festival: Theater and the Age of Reason, a series of events exploring the themes and historical background relevant to the play.
Tickets are available online.
Lantern Theater Company's New Jerusalem
When: Now-November 12
Where: St. Stephen's Theater, 10th and Ludlow Streets
Cost: Tickets range from $20-36; Student rush tickets are $10
More info: www.lanterntheater.org