March 23, 2012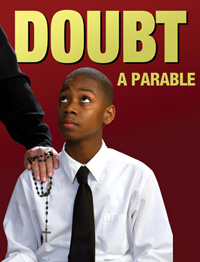 Next up at the Walnut Street Theatre's Independence Studio on 3 is Doubt: A Parable, winner of the Pulitzer Prize and Tony Award for Best Play.
It's a suspense-filled drama that will keep you on the edge of your seat.
Sister Aloysius Beauvier believes in a rigid dedication to discipline. When she learns Father Flynn has taken a special interest in a troubled altar boy, she becomes suspicious of his progressive, engaging attitudes.
Find out what happens by purchasing tickets online.
Doubt: A Parable at the Walnut Street Theatre
Where: 825 Walnut Street
When: March 27-April 15
Cost: $30
More info: www.walnutstreettheatre.org