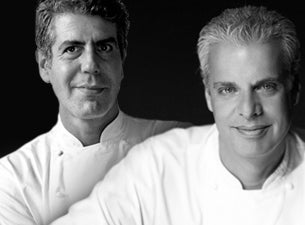 Ever wondered what really goes on behind the kitchen doors at top restaurants?
Master chefs Anthony Bourdain and Eric Ripert are opening up to share an evening of provocative storytelling about the truth behind the toques, November 2, 7:30 p.m. at the Merriam Theater.
Internationally acclaimed chef, author and host of Travel Channel's No Reservations Anthony Bourdain has been dubbed "the bad boy of cuisine" for his blunt observations about the foodie world.
Bourdain will be joined by Eric Ripert, Bravo's Top Chef judge and James Beard Award-winning chef of New York's Le Bernardin and Philly's own 10 Arts at the Ritz-Carlton.
The two will share fascinating and hysterical stories about their culinary experiences. Plus both Bourdain and Ripert will take questions from the audience, so prepare your brain-picking inquiries.
Tickets range from $45-$55 and are available online.
Anthony Bourdain and Eric Ripert at the Kimmel Center
Where: Merriam Theater, 250 S. Broad Street
When: November 2, 7:30 p.m.
Cost: Tickets range from $45-55
More info: www.kimmelcenter.org